13 September 2021
Posted by:

Canberra Innovation Network

Category:

General News
We're highlighting our business' strongest asset: our wonderful team!
Here at the Canberra Innovation Network, we're passionate about innovation and are here to help you make an impact and change the world. Our team is full of clever, connected and creative people and we're excited to introduce you to our PR and Strategic Communications Manager, Joshua Crouthamel.
Explain what you do at CBRIN in 25 words or less.
I support the amazing Britt and Cam, help our entrepreneurs get their stories out, write about CBRIN and promote our community in the media.
Tell us about what you're working on at the moment.
I'm putting together a workshop for our coworkers and entrepreneurs to meet with media professionals from print, radio and digital to refine their releases and knowledge of press interests.
Who or what inspires you?
Those we now refer to as "essential workers". I hope the folks who put their lives on the line to keep things ticking for the rest of us continue to receive the heightened level of respect and appreciation COVID's brought them because, more often than not, a person's importance to society isn't reflected by their paycheck.
What's your favourite book or podcast?
I listen to sooooo many podcasts! Favourites include The Daily, Casefile, Criminal, You're Wrong About, the Savage Lovecast, This is Love, Modern Love, the New Yorker Radio Hour, the New Yorker Fiction, This American Life, On the Media, Death Sex & Money, The Truth, Pop Culture Happy Hour … and I always have an Audible audiobook on the go.
What are you most passionate about?
Ocean time, dog time (Blanche is a deaf mini bull terrier celebrating her second birthday next week), international travel time (though I'm not sure I'll remember how when we're allowed again?) and theatre (I studied drama at NYU and was an actor in NYC before I hit the road and started working with words).
If you could dis-invent one thing, what would it be and why?
In-flight WiFi and those phones in the seatbacks. Being unreachable for that hour or those 18 hours is one of the best parts of air travel, IMHO.
Drink of choice? 
Diet Coke from the fountain with extra ice and a straw. If I could, I'd have the set-up in my kitchen, like Jean Smart in Hacks.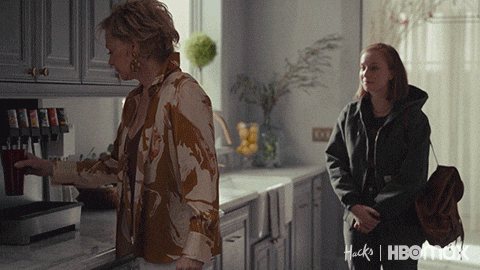 What do you work towards in your free time?
Spending that time at hotels with deep bathtubs and swim-up bars.
What's the coolest innovation you've read or heard about lately?
That time when my iPhone was waterproof, scratchproof and held a charge for an entire month. It was, like, the best dream I've EVER had.
What is something that never fails to make you smile?
Reading an actual paper copy of the New York Times in the sunshine on a Sunday morning, Brian Moylan's Real Housewives recaps for Vulture and hotels with deep bathtubs and swim-up bars.
What are you currently watching on Netflix?
The House of Flowers (if you love a telenovela), This Way Up (if you loved Fleabag), and always happy to dip into a themed Law & Order marathon (Mariska's hairstyle through the years, celebrity appearances, actors who've appeared multiple times playing different characters, etc.).
Tell us something interesting about yourself that we may not know.
I played Mark Cohen in Rent when it first came to Sydney.
If you were a crayon, what colour would you be?
Dandelion.
Thanks, Joshua! You can connect with him on LinkedIn or meet him at our office in Civic.